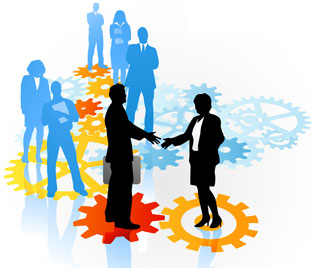 Well as you all know, I have been internship hunting like a madwoman,  and must say my hard work has paid off.  One of the steps in my internship hunting plan  was to contact the local ASTD chapter and see what job opportunities they could point my way.  Can you say "SCORE"!!!
After my email to the local chapter executive board, I was delighted to see that many of them took the time to personally (email) respond and offer support (looking for opportunities).  I even got a call from the  training and development department at a local college. They were interested in having an intern to help out their instructional designers and do some technical writing as well (they had been referred my resume by a member of the ASTD board).  It would have been the perfect opportunity except the college is 70+ miles away from me, it would have been an unpaid internship, and daycare would have been a nightmare.
Though that opportunity didn't work out, I still wanted to go to an upcoming chapter meeting (boy, am I glad that I did).  The session was titled 5-Steps to a Compelling Instructional Sequence
In  this session, you will learn how to combine elements of coaching and instructional design to create a compelling instructional sequence for your training designs using a simple five-step process.  This process includes strategies to:
Increase learner awareness and connections
Develop prerequisite knowledge
Build learner confidence
Integrate the learning into ongoing behavior
Engage learning through compelling presentation
Upon conclusion, session participants will be equipped with the insight they need to create a compelling instructional sequence in any training situation.
The presenter was truly a seasoned professional because with even with the power being out ( which meant no laptop = no PPT), she didn't crack a sweat.  She started her presentation by giving us some "food for thought" on the importance of having intention and the right attitude in order to see positive changes in our life.  She basically was modeling the strategies she was teaching to us (I love when presenters do this).
The best part of the presentation was creating an authentic instructional sequence.  If you are a graduate student and haven't joined a professional organization yet, you are truly mission out. It was great to network with professional in different aspects of learning and development, have professional conversations with my group members on how to solve a problem, and participate in a valuable learning experience so that I can practice various instructional methods and approaches.
The highlight of the day was that the presenter had heard that I was interested in obtaining an internship and offered me an 3 month internship with her as a contractor producing E-learning for her "Create a Compelling Workshop ".   One life lesson that I have learned is never deny the importance of having intent and a good attitude and utilizing the POWER OF NETWORKING.  I went into the meeting intent on getting an internship and had an energetic attitude.  Basically, my day can be summed up with a quote from Vince Lombardi
"The difference between a successful person and others is not a lack of strength, not a lack of knowledge, but rather a lack of will."
Who are you going to be??